FREQUENTLY ASKED QUESTIONS
Who are we and what are Meal Kits?
Developed specifically for F45 Challenge, our new & improved 'Challenge Meal Kit' service delivers the ingredients required for you to cook the Official Challenge Plan meals at home. We deliver meal kits to match the number calories you select when you place your order and send you the correct quantities of everything you need*. All items are clearly labelled, making preparation easy.
We deliver twice each week to ensure the produce that you cook with is as fresh as possible at the time you prepare your meals.
Our aim is to take final orders, purchase & receive produce from local suppliers, weigh it, portion it, pack it and deliver it all 48 hours. We deliver direct from the local facility in which your box was packed on the same day as it is delivered.
2fresh are the only Approved Suppliers of 'Challenge Meal Kits'
What are 'Challenge Meal Kits' ?
'Challenge Meal Kits' is the name given to a service which takes the hassle out of grocery shopping during the F45 45 day Challenge.
We provide Challengers with ingredients to cook the official Challenge Meal Plan at home.
What size meals do the Meal Kits provide
Meals are sized by the amount of calories they provide.
We offer meal kits to make meals in four predefined sizes as prescribed by the F45 Nutrition Team as the base plans for females and males during Challenge and Maintenance according to this image...
We also offer a fully bespoke service where we provide meal kits at a size specific to you and your goals. To find out more about this service please contact us on contact@2fresh.com.au
It is important to select the correct size for you and your goals.
You can find advice on this on the F45 Challenge portal by following this link How do I calculate my daily calorie intake

There is also a calculator on the F45 Challenge portal by using this Calculator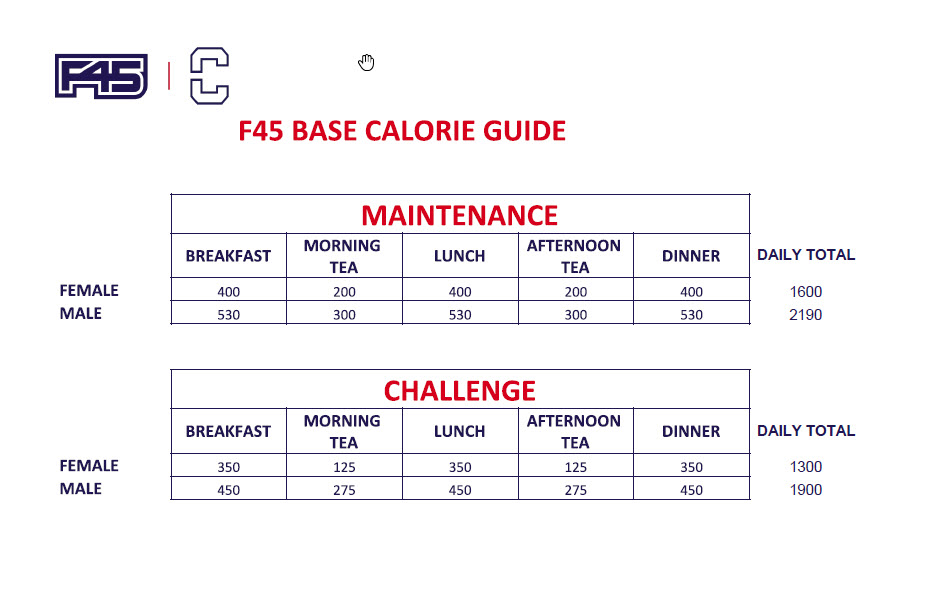 What do the Meal Kits include?
The meal kits include everything you need to cook the meals with the following exceptions: Olive Oil, Salt, Pepper & Water
The ingredients in the delivered box will be the correct quantities for the size meals that you selected when you placed your order.
If you have ordered for more than one person the ingredients will be combined together so you should 'portion' the meals accordingly when you serve them.
Your delivered box will contain a breakdown of the contents including each ingredient, it's quantity and how many meals at the specified sizes they will make. The breakdown also provides label codes to make finding the ingredients for any given dish easy.
Do the Meal Kits match the Challenge Meal Plan?
Yes the dishes are the same as on the Challenge portal. We work closely with the Challenge Nutrition team and are in contact many times a week.
However, there may be occasional changes:


When recipes on the Challenge portal include leftovers that are split across the delivery cycle, we might have to change the day of the week compared to where this meal appears on the plan.

Depending on certain ingredients availability and price we might substitute an ingredient. This will only be done with the approval of the Challenge Nutrition team - e.g. Barramundi may replace Snapper.
---
Why do ingredient quantities vary?
At 2fresh we calculate quantities to make meals for the size of meal that you have selected.
For example by selecting 350 calories you will receive quantities for meals that are 350 calories. Therefore the quantities on the 2fresh order may vary from the quantities on the Challenge Portal which are sometimes a bit lower than 350 calories or a bit higher than 350 calories.
Where can I find the recipes and cooking instructions for the meal kits?
Where do I find the nutritional information?
The nutritional information is published on the Recipes Page with each recipe. We provide meal kits at the same and different 'calorific' value as the portal. Where the sizes are different to the portal, the nutritional values will not available on the portal but the % remain the same. We can provide the values should you require them.
Do you offer vegetarian and vegan meal kits?
How to I calculate my daily calorie intake?
Each person has varying nutritional needs. The amount of energy you need and food you consume each day will depend on your gender, age, body weight, level of exercise and general activity. Not only will energy needs vary from person to person, but your energy levels also vary on a day-to-day basis. As such, there is no one-size-fits-all approach.
When you consume less calories than you burn, you are in a calorie deficit. In order to lose weight, you must be in a calorie deficit. As such, it's important to understand how many calories you need on a day-to-day basis.
The F45 Challenge is a calorie-controlled diet. The meal plans consist of approximately 1,900 calories for males and 1,300 for females. If you are training regularly, more often than not, you will need to add calories to your diet.
How do you know how many calories to consume (or not consume)? One way is to use a calorie calculator. F45 recommends using the Mifflin St Jeor equation to estimate calorie needs.

The equation first determines your 'basal metabolic rate,' the number of calories your body needs to function at rest and to perform basic body functions.

To determine your BMR, use the following formula:
BMR ESTIMATION:


MEN: Resting Metabolic Rate = (9.99 X weight) + (6.25 X height) – (4.92 X age) + 5

WOMEN: Resting Metabolic Rate = (9.99 X weight) + (6.25 X height) – (4.92 X age) – 161 Equations use weight in kilograms (kg), height in centimeters (cm).
Once you determine your BMR, you will need to determine your total daily energy expenditure (or 'total daily calorie burn'). You can do this by multiplying your BMR by your activity level, as set out below.
ACTIVITY FACTORS:
If you are sedentary (little or no exercise) = BMR x 1.2

If you are lightly active (light exercise/sports 1-3 days/week) = BMR x 1.375

If you are moderately active (moderate exercise/sports 3-5 days/week) = BMR x 1.55 1.725 If you are very active (hard exercise/sports 6-7 days a week) = BMR x 1.725

If you are extra active (very hard exercise/sports & physical job or 2x training) = BMR x 1.9

The total number is your estimated daily calorie burn.
Generally, for healthy and sustainable weight loss, it is recommended that members consume 500 calories less than their total calorie burn for a day. However, keep in mind that individual needs vary.
As a general rule of thumb, adding 500 cal/day above your baseline energy requirements (those needed to maintain weight) in conjunction with including resistance training will result in muscle gain.
Importantly, you should not consume less calories than your BMR. Your body needs calories to function. If you consume too few, it can lead to health complications.
---
What & when is order cut-off?
Order cut-off is the time at which we stop taking orders for any given delivery.

As a general rule we will stop taking orders for any given delivery at approximately 10pm, 3 days before the delivery.

Sunday deliveries: cut-off 10pm on Thursday night
Thursday deliveries: cut-off is 10pm on Monday night
The above cut-off times are what we refer to as 'regular order cut-off' times.

From time to time we may continue to take orders after the regular cut-off time; in which case we will update the homepage of the website.
We will do this if:

We have spare production capacity.

There are no limitations on the amount of ingredients we can source inside the lead time.
From time to time we might need to stop taking orders earlier than the regular 10pm cut off; again, we will update the website accordingly.

We will only do this if:

We have hit our production capacity limit

There is a shortage of key ingredients

There are extraordinary circumstances. (An example of this might be factors relating to COVID-19 lockdown restrictions impacting us in some way.)
Delivery days for F45 Challenge Meal Kits:


Sunday between 3pm & 10pm

Thursday between 3pm & 10pm
When will I receive your delivery?
Check the home page for the next delivery date - you will not be able to receive your order any earlier than the stated next delivery
When you order you will be able to choose which week your order is for and which delivery day or days you would prefer. The delivery day options are:
Sunday only (for meal kits with a supply of ingredients for Monday to Thursday)

Thursday only (Friday to Sunday meal kits)

Sunday & Thursday (if you wish to receive meal kits throughout the week)
Please email contact@2fresh.com.au for an update on your delivery if you have not received delivery or heard anything from us before 8pm on the day of delivery.
Do I need to be home to accept delivery?

No, you don't need to be home to receive your delivery. As we deliver the Meal Kits ourselves rather than using third party couriers we will either find a very safe place or alternatively will keep the delivery and rearrange if at all concerned it might not be safe.

If there is not an obvious place to leave your delivery then we recommend that you leave instructions for the driver at checkout at the time you place your order or by emailing us on contact@2fresh.com.au
Are the deliveries tracked?
No we do not use tracking at this time. We we deliver ourselves in order to maintain better care and quality control.
Please email contact@2fresh.com.au for an update on your delivery if you have not received delivery or heard anything from us before 8pm on the day of delivery.
Are the delivery trucks refrigerated?
No our delivery trucks are not refrigerated.

Our boxes are only in the supply chain for a maximum of 4 hours (compared to the pre-prepared meals which may be in transit three or even five days).

The proteins & dairy produce are packed in insulated pouches with ice packs which will keep the contents cold for up to 12 hours.

We do not deliver any groceries meal kits further than 2 hours planned drive from our packing facility.
---
---
What personal data do you collect?
If you purchase a product or service from us, we request certain personal information from you at the time you pace your order.

You must provide contact information such as name, contact email, contact telephone number, billing address, shipping address, credit card number and credit card expiration date.

We use this information for the purposes of taking payment, fulfilling your order and in case we need to contact you at any time during the fulfillment process.

We do not share any of your personal information with any third party organisations.
---
What is the use by date of the ingredients?
The ingredients will have at least 5 days life remaining on the day of delivery.
Are the contents of the box ready to eat?
The contents of the box are cooking ingredients, as if purchased from a supermarket and should be washed and prepared before consumption.
The boxes may contain allergens as part of a recipe and are packed in an environment where other allergens are also packed and therefore may contain:
Peanuts, tree nuts, milk, eggs, sesame seeds, fish, shellfish, soy, lupin and wheat.
---
What about discount codes?
From time to time we will issue discount codes for various reasons.

Discount codes can't be used on top of another discounted promotion such as our 'Bundle' products.
'Friends & Family' savings are ongoing and therefore other discount codes can be used in conjunction with the 'Friends & Family' selections